2017 ALL-OHIO WINTER LEAGUE
Below please find the schedule and rosters of the Winter League. After this week please find the updated schedule and rosters in the "Leagues" section of our website under Winter League. The updated schedule and rosters will appear every Thursday by 9:00pm.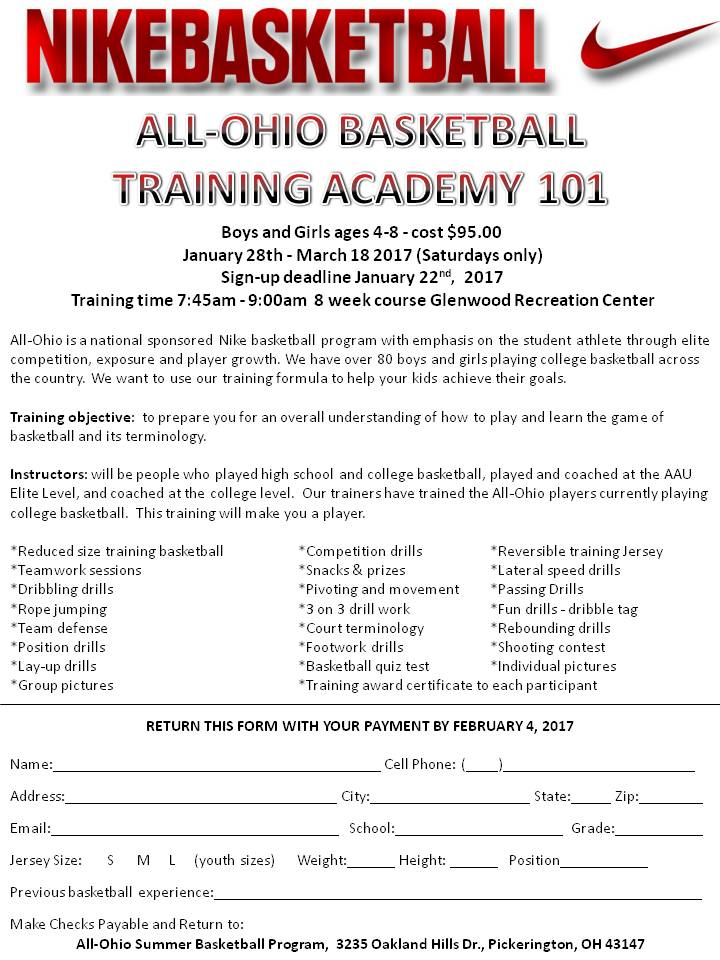 We are accepting applications for the All-Ohio Summer Basketball Program's Nike Winter Basketball League.

This league is for boys in grades 2-8. The league will start January 28, 2017, and conclude with the playoffs on March 19, 2017.

There will be three divisions within the league. The Smurf Division is for grades 2-4. The Future Stars Division is for grades 5-6. The Unstoppable Division is for grades 7-8. There will be an ALL-OHIO BASKETBALL TRAINING ACADEMY 101 for kids ages 4 through 8 who have not previously played organized basketball. If you have a team that would like to play together, there will be a special team rate for those who sign up as a team.

We will use this league to look at prospects for our Nike AAU summer traveling teams that play around the country. This league will pick all-star teams for the Nike Grassroots Central Ohio Basketball Tournament to be held March 24-26, 2017.

The entry fee is $95.00. Each participant will receive a reversible game jersey. The first two weeks will be the instructional clinics on January 28 and February 4 from 9 am – 1 pm, and league play will start on February 11, 2017.

Once you have sent in your entry fee, you need to report to the Glenwood Rec Center, 1888 Fairmont Avenue, Columbus, Ohio 43223, on January 28, 2017, for a mandatory meeting at 9:00 AM. If you are interested in coaching a team one night a week, please contact me, Jerry Watson.

The league will be filled on a first-come, first-serve basis. Any 7th or 8th grader who is in season with their school team is eligible to play in the winter league once their school season has ended.

If you have any questions, please call me at 614-861-0572.

ALL GAMES WILL BE PLAYED ON SATURDAY.



ALL-OHIO FREE CLINIC
The All-Ohio Nike Basketball Program will host free clinics and Winter League sign-ups for boys and girls in grades K-8 from 9:00am-12:00pm, January 28th and February 4th at Glenwood Recreation Center. For more information contact Jerry Watson at 614-861-0572.